Ingredients: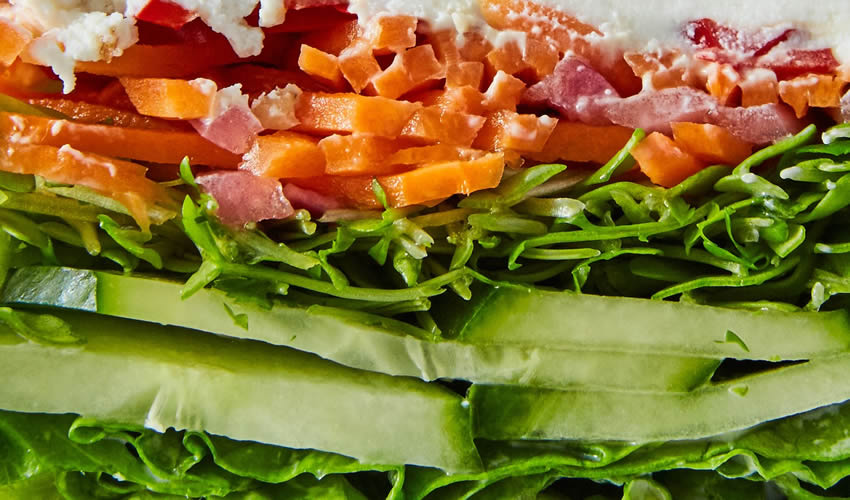 Pickles

2 cups apple cider vinegar
½ cup (packed) light brown sugar
¼ cup kosher salt
4 cups any combination shredded carrots, sliced cucumbers, sliced red onions, and/or sliced mild fresh chiles

Dressing and Assembly

¼ cup buttermilk
¼ cup plain whole-milk Greek yogurt
1 tablespoon fresh lemon juice
6 tablespoons olive oil, divided
Kosher salt, freshly ground pepper
2 ripe avocados, halved
6 ounces fresh goat cheese
6 cups mixed lettuce leaves, ribs removed if thick
8 slices multigrain bread, toasted
½ English hothouse cucumber, thinly sliced on a diagonal
2 cups sprouts
Preparation:
Whisk buttermilk, yogurt, lemon juice, and 3 Tbsp. oil in a large bowl until smooth; season dressing with salt and pepper.

Scoop avocados into a small bowl; add 1 Tbsp. oil and lightly mash. Season with salt and pepper. Mash goat cheese with remaining 2 Tbsp. oil in another small bowl until softened and spreadable; season with salt and pepper.

Add lettuce to dressing and toss to coat; season with salt and pepper. Spread avocado mixture over 4 slices of bread. Arrange lettuce over and top with cucumber, sprouts, and some drained pickles. Spread remaining 4 slices of bread with goat cheese and close sandwiches.